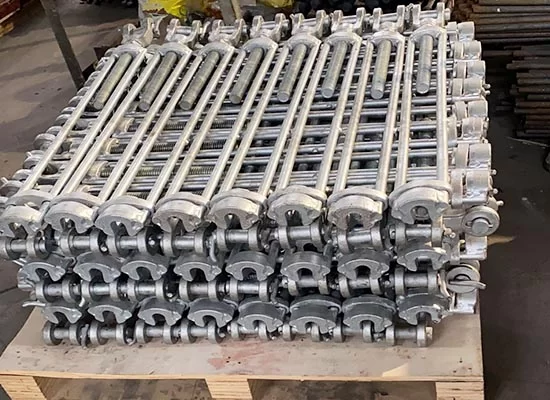 Exporting Country: Singapore
Order Products: Container Fittings and Lashing Equipment
Contract Date: 2021.6.13
Quantity: 664pcs
Customer Vessel Details
Ship type: container ship
Gross tonnage / TEU: 153115
Introduction: total length: 366.00m, profile width: 51.00m, profile depth: 30.00m
Major Project
Installation of hybrid desulfurization system.
Hull Engineering: overall demolition of old chimneys, overall hoisting and loading of new chimneys, installation of desulfurization system equipment base and platform vertical ladder, the transformation of No.6 (P / s) ballast tank and empty cabin of the engine room into the functional cabin of desulfurization system, and transformation of engine room ventilation pipe. Improvement and replacement of cargo hatch cover and foot;
Engine room engineering: desulfurization system equipment installation, piping connection, electrical equipment installation, cable laying, wiring, and commissioning;
Painting works: sanding and painting of outer plate, cleaning of anchor chain cabin, sanding and painting of new chimney sections, sanding and special painting of functional cabin of desulfurization system;
Dock repair works bottom plug switch, vacuum pumping. Blade polishing flaw detection, rudder clearance measurement, front and rear tail shaft seal replacement, valve box grille switch, zinc block replacement, anchor chain routine, sea valve, submarine valve maintenance and replacement. I CCP replacement. New outboard pipe of desulfurization system;
Container fittings and lashing equipment update.
Communication Process
The customer has hired a reputable maintenance company to overhaul his ship. However, they realized that more fasteners were needed to ensure the safety of the container, so they contacted us, our professional ship parts engineer, to provide the best solution for customers' ship parts. Finally, gosea marine timely produced and supplied the products they needed for customers in an efficient and effective way.