Marine Gasket is a kind of marine pipe fittings, and its function is to seal after the pipe is connected. The function of the marine gasket is to seal after the pipe is connected. The materials of marine gaskets include asbestos, aramid rubber, nitrile rubber, polytetrafluoroethylene, metal and so on.
The marine hatch gasket is a circular ring made of a material that can produce plastic deformation and has a certain strength. Most of the gaskets are cut from non-metallic plates or made by professional factories according to the specified size. The materials are asbestos rubber plates, asbestos plates, polyethylene plates, etc.; thin metal plates (white iron, stainless steel) are also used to remove asbestos A metal-wrapped gasket made of non-metallic materials; there is also a spiral wound gasket made of thin steel tape and asbestos tape. 
The contact width between the high-pressure gasket and the sealing surface is very narrow (line contact), and the processing finish of the sealing surface and the gasket is relatively high.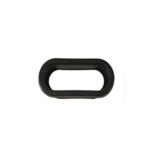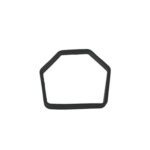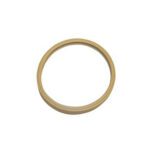 Types and properties of Marine Hatch Seal
In the past, asbestos rubber gaskets were used in large quantities in the shipbuilding industry, which was gradually eliminated due to their poor environmental protection. Instead, they were replaced by a variety of new materials for marine gaskets with better sealing and environmental protection.
①Flexible graphite metal composite mat
Material: It is composed of a flexible graphite plate and stainless steel plate or tin steel plate.
Features: Wide application area, high pressure and high-temperature resistance.
Applicable medium: steam, seawater, freshwater, air, flue gas, inert gas, oil, various solvents, dilute hydrogen acid.
PN≤6.4MPa; t: -200~+600℃.
②Polymer coating composite mat
Features: non-toxic.
Applicable medium: drinking water, food, medicine.
PN: 0.6MPa; t≥200℃.
③Aramid rubber gasket
Features: Suitable for multi-media, good economy.
Applicable medium: fuel, lubricating oil, steam, seawater, freshwater, air.
PN≤4.0MPa; t-100~+450℃.
④NBR rubber gasket (black)
Features: flame retardant, oil-resistant, acid and alkali.
Applicable medium: seawater, freshwater, sewage, fire fighting, fuel oil, lubricating oil, compressed air.
PN: 360MPa; t: 30~ +110℃.
⑤Silicone rubber gasket (white)
Features: non-toxic, high temperature resistant. Applicable medium: water supply, drinking water, refrigeration.
PN: 1.6MPa; t: 30~+150℃.
⑥Fluorine rubber gasket (red)
Features: flame retardant, oil, acid, alkali, high-temperature resistance.
Applicable medium: high-temperature fuel, lubricating oil, animal oil, vegetable oil.
PN: 3.0MPa; t: 30~+250℃.
⑦O-shaped rubber sealing ring
O-shaped rubber sealing ring is a kind of seal widely used in marine pipeline sealing in recent years. Because of its good sealing performance, it is mostly used to seal hydraulic pipelines and air pipelines whose nominal pressure is above 10.0MPa, the nominal diameter is below 32mm, and the working temperature is normal temperature.
⑧Copper washer
In addition to the performance of O-ring gaskets, copper gaskets can also be used to seal interfaces with lower temperatures but larger nominal diameters. The copper washer must be annealed before use.
Dear friend, you can submit your pressing need online, our staff will promptly get in touch with you. If you have any questions, consult our customer service through online chat or telephone in a timely fashion. Thank you for your request online.
available from 00:00 – 23:59
Address :Room A306, Building#12, Qijiang Road, Ganjingzi