Marine Engine Spare Parts
Marine engine spare parts are very important to every ship owner since they are important ship parts. For overhauls or routine maintenance, fast and easy access to spare parts will be a big benefit.
  Our marine diesel engine parts kit and spare parts service ensures reliable availability of most engine spare parts, from basic wear parts to fuel and exhaust equipment parts. Furthermore, Gosea Marine can handle most engine spare parts well. Throughout the life of your two- and four-stroke engines, generators, propellers, and turbochargers, we keep them at their best.  
Approval standard: International Association of Classification Societies (I.A.C.S.)
| | |
| --- | --- |
| | |
| | (26MC, 35MC, 42MC, 50MC, 60MC, 70MC, 80MC, 90MC) (45GFCA, 55GFCA, 67GFCA, 80GFCA) |
| | (RTA48, RTA52, RD56, RTA58, RTA62, RLB66, RTA68, RND68, RTA72, RND76) |
| | (UEC37, UEC45, UET45, UEC52, UET52, LU28, LU32, LU35, LU46, LU50) |
| | 165, 180, 200, 210, 240, 260, 280, 330 |
| | |
| | DS22, DK20, DK26, DK28, DK36 |
| | |
Marine Diesel Engine Parts And Functions
Marine diesel engine parts include cylinder head, cylinder liner, piston head, piston rod, piston skirt, piston ring, connecting rod, valve box, air valve, valve seat, cylinder head water jacket, cylinder water jacket, fuel injector, safety valve, indicator valve, crankshaft, camshaft, etc.
Cylinder heads are part of the combustion chamber and are installed on the top of the cylinder, the cylinder and piston in power machinery. Different models are available with fuel injectors, safety valves, test valves, inlet valves, exhaust valves, and starting valves among other instruments and accessories.
Cylinder heads have more structure types, and distinguishing methods differ from one another.
If it is distinguished by its composition, it has integral, monomer and combined;
According to its manufacturing method, it can be divided into casting type and forging type.
A cooling water chamber has a more complex structure, including a cooling water cavity, an inlet, an exhaust channel, etc. To facilitate the removal of dirt from the cooling water chamber, a cleaning hole is provided on the external wall. A cover plate prevents debris from entering the cooling water chamber. Some are also equipped with an anti-corrosion zinc block to prevent corrosion of the cooling water. For tightening the cylinder head, a bolt through hole is drilled around the circumference of the cylinder head. In addition, the system allows for the installation of valve parts and accessories, such as seat holes.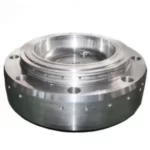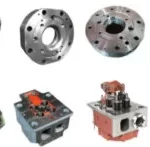 The cylinder liner of a diesel engine guides piston reciprocation, along with cylinder head and piston combustion. Different types of cylinder liners have different characteristics.  
In terms of application points, there are four-stroke diesel engine cylinder lines and two-stroke diesel engine cylinder lines;

It can be divided into integral and piecewise combined types depending on its composition;

Its cooling methods can be divided into wet, dry, and water jacket types three.
Cylinder liners are usually made of high-quality cast iron, ductile cast iron, or alloy cast iron. Often, the inner wall of the cylinder liner of large and small diesel engines is chrome plated or plasma molybdenum sprayed in order to improve wear resistance and improve lubrication. A cylinder liner for a high-speed diesel engine with an inner wall coated with chrome or nitrided. Paint or epoxy resin is often used on the outer wall of cylinder liners to prevent cavitation. The inner wall of the cylinder sleeve and other parts should be checked for scars or cracks, the degree of abrasion deformation of the inner wall should be measured, and the sealing ring of the cylinder sleeve should be kept in good condition during maintenance.

Piston Head, Piston Rod, Piston Skirt
Piston components include piston, piston ring, support ring, piston rod, etc.
Piston rods connect the piston to the motor, transmit force and drive the piston. Most of the applications for oil cylinders, cylinder movement parts, involve frequent movement, high technical requirements.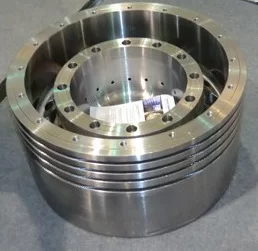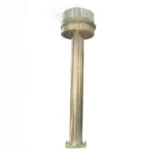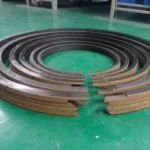 The connecting rod group bears the gas force from the piston pin as well as its own swing force and reciprocating inertia force, the magnitude and direction of which are changing. Therefore, the connecting rod should have sufficient fatigue strength and structural stiffness. Fatigue strength is insufficient, leading to connecting rod body or bolt fracture, and then resulting in a serious accident of the whole machine.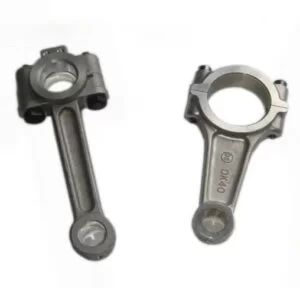 Valve box, Air valve, Valve seat
A reciprocating piston compressor's air valve is one of its most important components. It directly impacts the displacement, power consumption, and reliability of the compressor. An important part of limiting the increase of speed in the compressor to the high-speed development stage is the valve.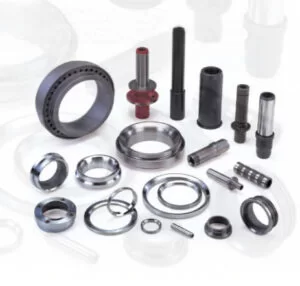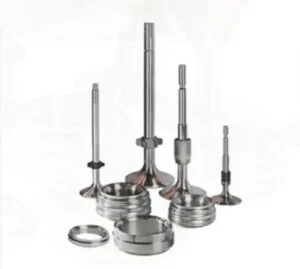 Cylinder head water jacket, Cylinder water jacket
As the water jacket is used in the engine combustion chamber and the temperature of the cylinder wall by heat conduction to transfer heat to the coolant Because the liquid flow through the pump cycle to the radiator By the radiator through the flow of outside air to cool the liquid, once again by scattered hot coolant circulation to the engine water jacket in receiving the heat generated by the engine working, so cycle.
So the summary is heat transfer.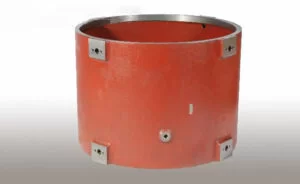 Injector, safety valve, indicator valve
Injectors are precision devices with very high processing precision, which require a large dynamic flow range, strong anti-clogging and anti-pollution properties, and good atomization ability. To accurately control the fuel injection volume, the injector receives the pulse signal sent by the ECU.
On a medium-sized large diesel engine, an indicator valve is an instrument that is used to measure the explosion pressure in the cylinder, or to draw the explosion pressure curve, to characterize the work performed by a single cylinder.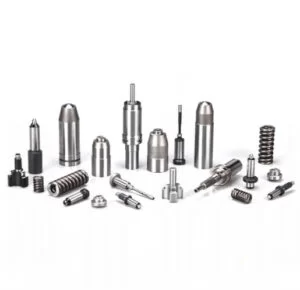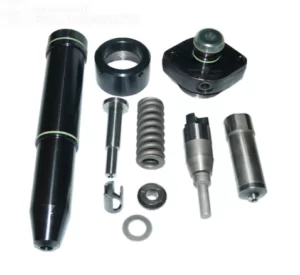 Engines are powered by their crankshafts. It converts the force from the connecting rod into a torque that drives the crankshaft and other components of the engine. Crankshafts are subject to the combined force of rotating mass, gas inertia force of periodic change, and reciprocating inertia force, which results in bending torsional loads. Therefore, the crankshaft must have enough strength and stiffness, and the journal surface must be wear-resistant, uniform, and balanced.
  Periodic impact loads are applied to the camshaft. Contact stress between CAM and tappet column is very high, and relative sliding speed is also very high, so the wear of the CAM working surface is more serious. A camshaft journal and CAM working surface should not only have higher dimensional accuracy, smaller surface roughness, enough stiffness, but also have higher wear resistance and good lubrication.
Usually, camshafts are made of high-quality carbon steel or alloy steel, but they can also be cast from alloyed or ductile iron.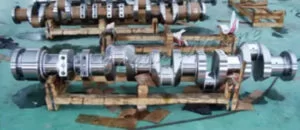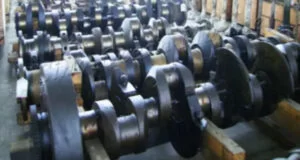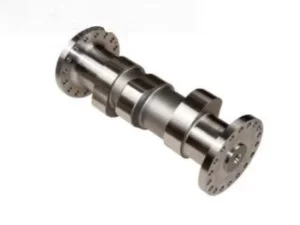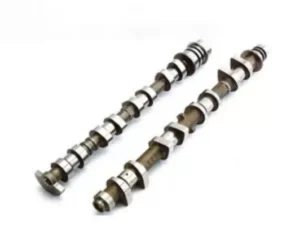 1. Supply a variety of brands
Manufacturers include but are not limited to Mann B&W, Wasilla, Sulzer, White Stork, Mitsubishi, Pierrick, Bergen, Yoma Engine, Daihatsu, Wheat, General Electric, Delay Bach, Walker Sand, Caterpillar, Cummins.
  We provide a large assortment of marine diesel engine spares, including jackets, cylinder heads, crankshafts, pistons, piston rings, valve seats, fuel pumps, injectors, pipes, fuel cams and exhaust cams, hardware, gaskets and o-rings, power packs, blowers, etc.  
2. OEM quality
Our OEM quality marine diesel engine parts are sourced from reputable manufacturers who specialize in supplying specific parts to well-known engine manufacturers worldwide. Therefore, all parts are produced and developed by experts with a long history of excellence. Gosea Marine guarantees that all spare parts are interchangeable and of the same quality as the original parts.
3. Reliable
Gosea Marine fully understands what our customers expect in terms of delivery time and product quality. When we promise to do what we can, we will deliver on that promise. Through a realistic approach, the company has successfully established itself in the ship inboard marine engine parts business.  
4. Professional
Since its inception, the company has concentrated on spare parts for marine diesel engines and turbochargers. With 36 years of shipyard experience, our in-house engineering team includes top marine engineers. Let us solve all your technical issues.
5. Competitive pricing:
By making large monthly purchases and deliveries, we can negotiate lower prices with our suppliers. Therefore, we can offer our customers the greatest savings on their budgets. Additionally, Gosea Marine's business strategy is to keep margins low on each transaction and in the long run with Purseu, which is why our prices always support our partners.
Why Buy Marine Engine Spare Parts Online?
With the internet and the emergence of online shopping, it's easy to find what you need and buy marine engine spare parts online.
As an example, let's take a look at a company that has an online store for marine engine spare parts. Gosea Marine offer a wide variety of products. Also have discounts on certain products during certain events.
This is not to say that you should stop buying your marine engine parts from your local dealer. You can still buy them locally and then order them online when they are out of stock or when you need more than what you bought from the local dealer.
Dear friend, you can submit your pressing need online, our staff will promptly get in touch with you. If you have any questions, consult our customer service through online chat or telephone in a timely fashion. Thank you for your request online.
available from 00:00 – 23:59
Address :Room A306, Building#12, Qijiang Road, Ganjingzi