Fire Fighting Equipment on Ship
What is marine fire fighting equipment? Marine fire tools are devices used to overcome the emergency fire situation on board. These equipment are not any random fire fighting equipment. These are specially designed and approved for use by the certification authority.
Each device of ship firefighting tools has its own function and consists of it. According to international rules and regulations, ships must carry the most basic marine fire-fighting equipment. Fire extinguishers, smoke detectors, fire blankets, fire sprinkler systems and carbon monoxide detectors are one of the basic ship firefighting tools.
Manual fire alarm button: it is an equipment type in the fire alarm system. When a fire occurs, when the fire detector does not detect the fire, the personnel manually press the manual fire alarm button to report the fire signal.
Automatic sprinkler system: it is composed of a sprinkler head, alarm valve group, water flow alarm device (water flow indicator or pressure switch), pipeline, and water supply facilities, and can spray water in case of fire. It is composed of a wet alarm valve group, closed sprinkler, water flow indicator, control valve, end water test device, pipeline, and water supply facilities.
A foam fire extinguishing system is a fire extinguishing measure consisting of a set of equipment and procedures. It is composed of a fixed foam liquid fire pump, foam liquid storage tank, proportional mixer, conveying pipe of foam mixing liquid and foam generating device, etc., and is integrated into the water supply system. In case of fire, start the fire pump and open the relevant valves first, and the system can put out the fire.
Fire broadcasting system: also known as the emergency broadcasting system, it is important equipment for fire escape and evacuation and fire fighting command and plays an important role in the whole fire control and management system. In case of fire, the emergency broadcast signal is sent out through the sound source equipment. After power amplification, the broadcast switching module switches to the speaker in the designated broadcast area to realize the emergency broadcast.
Temperature-sensitive fire detector: it mainly uses thermal elements to detect fire. In the initial stage of fire, on the one hand, a large amount of smoke is generated, on the other hand, a large amount of heat is released during the combustion process, and the ambient temperature rises sharply. The thermal element in the detector changes physically and responds to abnormal temperature, temperature rate and temperature difference, so as to convert the temperature signal into an electrical signal and carry out alarm processing.
Marine Fire detection and alarms devices
Type of fire detector: Divided into temperature-sensitive, smoke-sensitive, light-sensitive, carbon monoxide-sensitive, composite, intelligent fire detection and so on.
Types of fire alarms: It is divided into lightalarms, alarm bells, sound and light alarms, manual alarm buttons and so on.
Fire Detection and alarm devices are often used in conjunction.
Fire sprinkler head is used in fire sprinkler system, when a fire occurs, water is sprinkled through the sprinkler head splash tray to extinguish the fire, which is categorized into sagging sprinkler head, upright sprinkler head, common sprinkler head, side wall sprinkler head and so on.
Marine Fire Tool - Water Cannons
Firefighting Water Cannon is a fire-fighting water jet tool, with its connection to the water belt will spray dense and full of water. Has a long range, large water volume and other advantages according to the jet form and different characteristics can be divided into: straight, spray, multi-purpose water cannon and so on. One of the commonly used water gun is direct current and spray water gun.
Dual-purpose type nozzle(spray/jet type)
Type: QLD50AJ/12 

In accordance with EN15181-1,15182-3,IN14302 and SOLAS 1974,as amended.

 

Material: Lead brass 

Connector type: Storz Length: 156±5mm 

Certificate: MED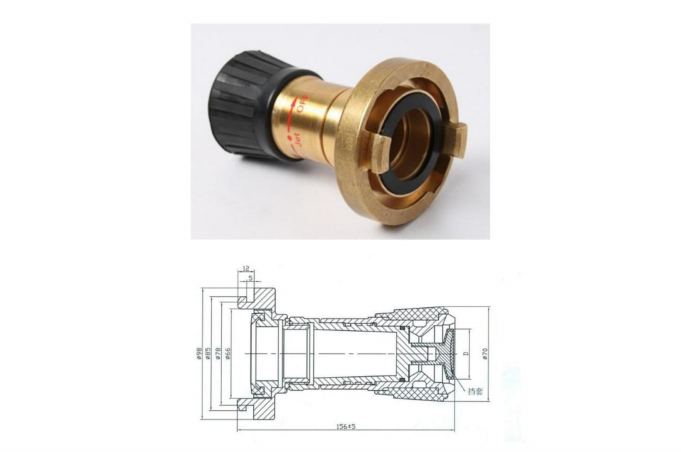 Marine fire hose valve is installed in the ship fire network, water supply to the fire site with a valve interface. It is usually installed in the hydrant box, and is used in conjunction with other services such as fire hoses and water guns.
Marine Fire Fighting Equipment - Fire hose
Marine Fire hose is used to transport fire retardant liquids such as high pressure water or foam. Traditional fire hoses are lined with rubber and wrapped with a linen braid on the outer surface. Advanced fire hoses, on the other hand, are made of polymerized materials such as polyurethane. Fire hoses have metal connectors on both ends that can be attached to another hose to extend the distance or to a nozzle to increase the pressure of the liquid jet.
Ship Fire Hose Box
Each box c/w a dual-purpose (spray and jet) nozzle, fire hose, and couplings.
Material: Fiberglass 
Thickness: 4-5mm 
Accessories: 304 stainless steel hinges and hardware 
Size: 560 mm (L)*650mm (H)*190mm (W)
Marine Fire Hose Details
Jacket: Filament yarn 
Lining: Thermal plastic polyurethane 
Color: White 
Application: SOLAS II-2/10,EN 14540(2004),incl.A.1(2007) 2000(1994)HSC Code,ch.7 
Length: 20m, 15m 
Size: DN50 Working 
Pressure: 15bar 
Certification:MED
Currently commonly used marine fire extinguishers are: 1, dry powder fire extinguishers. 2, foam-type fire extinguishers. 3, carbon dioxide fire extinguishers.
Portable foam applicator
The PQC8A Foam Nozzle is a portable firefighting nozzle designed to extinguish fires caused by oil and flammable liquids around machinery and boilers by generating and spraying air foam. The body part is made of plastics that is resistant to corrosion of seawater and foam liquid it contains, simple structure; the nozzle and foam bucket are connected by quick coupling, which is fast and convenient to operate.This product is conformed to SOLAS 1974/2000 and International Code for Fire Safety System. Furthermore, it has been approved by GL.
Work pressure: >0.5Mpa 

Range of water: >220 m 

Range of foam: >15 m 

Water flow: 7.36~8.64L/S 

Connector: KY50/KY 65 

Fitted foam liquid: 3% 

Volume of bucket: 20L 

Certification: RINA 
Portable Dry Powder extinguisher 6kg
REF: PSMPG6 

Fire rating:34A,183B, C 

Capacity: 6kg 

External Diameter: 150mm 

Height: 544mm 

Total weight: 10.5kg 

Extinguishing Medium: Powder ABC 

Temperature Range: -30~+60℃ 

Packing Size:160*160*550mm 

Certificate: MED
Portable Foam extinguisher 9L
REF: PSMFG9

Fire rating: 43A 233B

Capacity: 9L

External Diameter: 180mm

Height: 610mm 

Total weight: 14.5kg

Extinguishing Medium: AFFF&WATER

Temperature Range: 0~+60℃

Packing Size:190*190*620mm
Mobile AFFF Foam Fire Extinguishers
Dear friend, you can submit your pressing need online, our staff will promptly get in touch with you. If you have any questions, consult our customer service through online chat or telephone in a timely fashion. Thank you for your request online.
available from 00:00 – 23:59
Address :Room A306, Building#12, Qijiang Road, Ganjingzi