About Marine Survival Suit
Survival suit is also known as immersion insulation suit, is a new type of life-saving appliances, is a kind of protective clothing that can reduce the loss of body heat of the person who falls into the water. 
With natural thermal insulation material made of life-saving clothing can provide sufficient thermal protection, so that the wearer in the water temperature of 0 ~ 2 ℃ of the calm circulation of the water over a period of 6 h, the body temperature is reduced by no more than 2 ℃. 
Survival Suits made of non-naturally insulating materials should be worn together with warm clothing. It also provides considerable thermal protection so that the wearer's body temperature does not drop by more than 1°C after 1 h in calm flowing water with a water temperature of 5°C. 
The immersion suits also protect the hands of the wearer so that he or she can hold a pencil and write after 1h of immersion in water at a temperature of 5℃. Ocean survival suit is divided into two types: those used in conjunction with life jackets and those that can be used alone.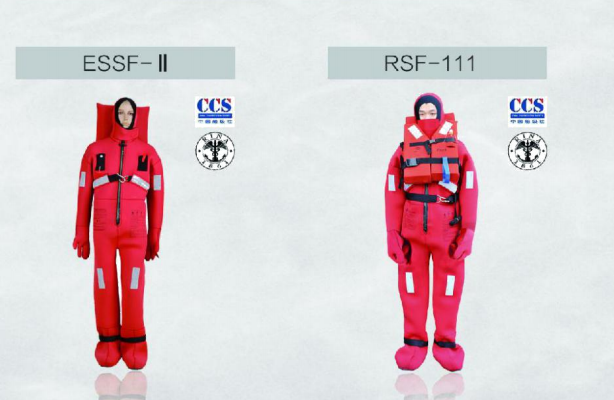 Survival Suit Technical Parameters
Gosea Marine offers all types of offshore life jackets, and keeping you safe while shipping and boating at sea should be our main task. There are three main types of Survival Suits: ESSF-1, ESSF-II, RSF-111.
ESSF-1 Technical Parameters
Material: Waterproof Polyester Oxford 
Size: M: 1650-1800 mm, L:1800 mm-1950 mm, XL: 1950 mm-2050 mm
NW: 5.00 kg±0.3 kg
Packing: 2 pcs each packed in poly-bag/carton
carton measure:550*320*500 mm
Certification: EC/CCS
ESSF-II Technical Parameters
Material: Neoprene (6 mm thickness)

Size:

M:1650-1800 mm, L:1800 mm-1950 mm, XL: 1950 mm-2050 mm 

N.W.: 5.00 kg+0.3 kg 

Packing: 2 pcs each packed in poly-bag/carton 

Carton Size:550*320*500 mm 

Certification: EC/CCS
RSF-111 Technical Parameters
Material: Neoprene (6 mm thickness) 
M:1650-1800 mm, L: 1800 mm-1950 mm, XL: 1950 mm-2050 mm 
N.W: 5.00 kg+0.3 kg 
Packing: 2 pcs each packed in poly-bag/carton 
carton size: 550*320*500 mm 
Certification: EC Conforms to 2009/26/EC, SOLAS 74/78
Personal Life Saving Appliances: Life Jacket
Marine offshore life jacket is also known as life vest, is a kind of life-saving clothing, the design is similar to the undershirt.The use of nylon fabric or NEOPRENE, buoyant materials or inflatable materials, reflective materials and other production and become.
General service life of 5-7 years, is one of the ship's life-saving equipment. Generally undershirt type, made of foam or cork. Wear on the body with enough buoyancy, so that the head of the person who fell into the water can be exposed to the water.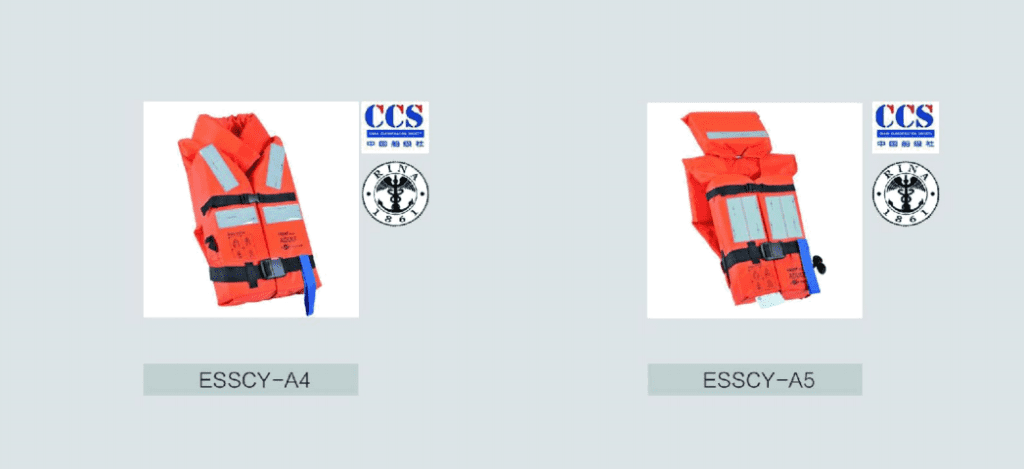 ESSCY- A4 Technical Parameters:
Fabric: Polyester Oxford

Buoyancy 

Material: EPE foam

Reflective 

Tape: SOLAS reflective tape 

Belt: Black webbing belt with plastic buckle 

Resue rope: 1920 mm length line

Accessories: Whistle and light 

Buoyancy: 147N 

Dimensions: 600 mm×300 mm 

Certification CCS/EC

Standard: 2009/26/EC, SOLAS74, 1994 and 200HSC Code 8, MO Res.MSC 48(66)-(LAS Code)I,I, MO Res.msc.81(70)as amended by MSC.200(80),MSC. 207(81), MSC.218(82)
ESSCY-5 Technical Parameters: 
Dimensions: 530 mm×400 mm, 

Other parameters is same as ESSCY- A4. We also offer other models of life jackets, if you are interested, you can contact our customer service.
Ship Inflatable Life Vests
ES, YSH, SM
 

series Inflatable Life Vest:
Weight: Under 0.75kg 

Buoyancy: 150+N 

Fabric: Polyester+Oxford 

Inflation Time: Under 5s 

Floating Duration: 48h+ 

Buoyancy loss after: 24h<5% 

Weight Of CO2: 33g 

Accessories: one whistle, two reflection bands one cylinder, EYSON inflation system, there is a bobbin in case of auto type Validity: 3 years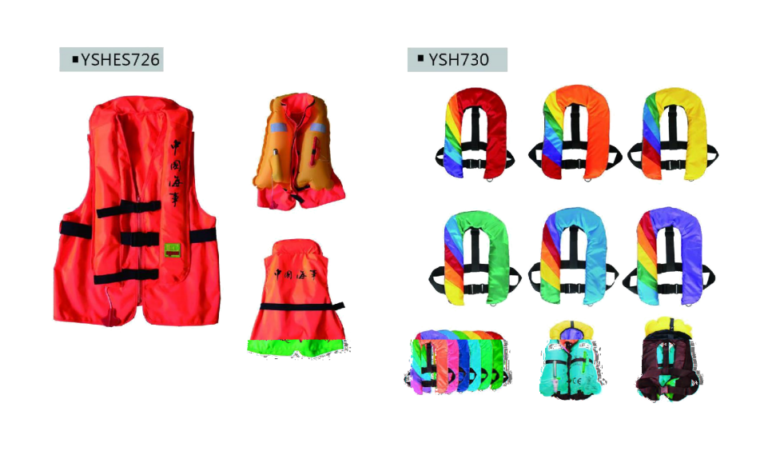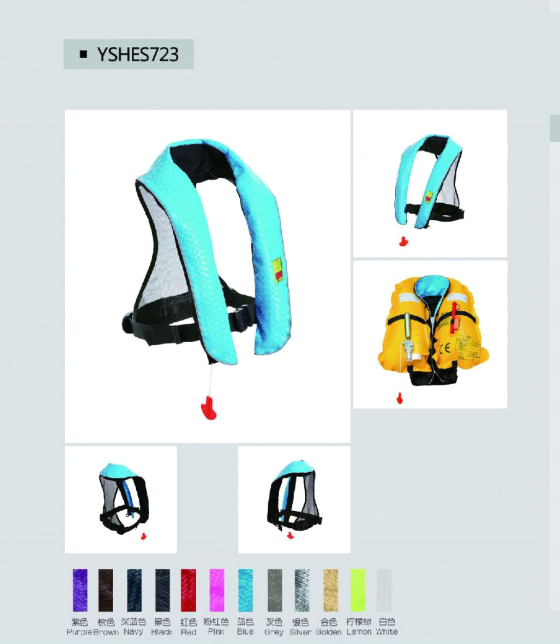 Child Ship Life Jackets:
Weight: Under 0.6kg

Buoyancy: 80+N,

Other parameters are same as Adult's inflatable life vest.


Fishing Life Vests Technical Parameters:

Weight: 0.2kg

Material: compound waterproof with pockets

Small Size: Shoulder 37CM, chest breadth 42 CM, lower hem 58CM, whole length 53CM

Middle Size: Shoulder 39CM, chest breadth 45 CM, lower hem 62CM, whole length 57CM

Large Size: Shoulder 40CM, chest breadth 48 CM, lower hem 66CM, whole length 61CM

Suitable Range: Usually used in sea, fishing, side fishing, raft fishing,etc.
Boat Pet Life Jacket:
Material: 420D Polyester Oxford+EVA pearl wool
Weight: less than 0.3kg
Suitable range: all kinds of large and small pet dogs, pet life-saving, and pet swimming suit
Lifejacket light for Sale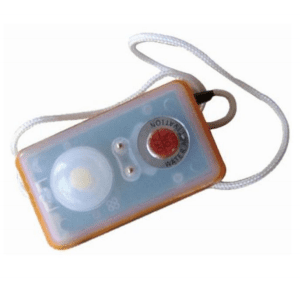 The lifejacket light is a luminaire consisting of the main components such as lampshade, lamp base, luminous body, circuit board, battery and connecting parts. It is suitable for indicating to rescuers at night the position at sea of a person overboard wearing a lifejacket. Its performance is in accordance with the provisions of the International Convention for the Safety of Life at Sea (SOLAS). White light, flashing at a rate of not less than 50 and not more than 70 flashes per minute, with an effective luminous intensity of not less than 0.75 cd.
Water contactor switch, Manual switch

Light: LED(The constant current driver circuit)

Battery: Lithium battery

Lighting period: 8h+

Luminous intensity: 0.75cd+

Flash frequency: 50-70 times/min

Chromaticity: white color

Certificate: MED
Dear friend, you can submit your pressing need online, our staff will promptly get in touch with you. If you have any questions, consult our customer service through online chat or telephone in a timely fashion. Thank you for your request online.
available from 00:00 – 23:59
Address :Room A306, Building#12, Qijiang Road, Ganjingzi