Marine immersible pump is a professional equipment for deep well water lifting. Because of the particularity of the working environment, it has high requirements for its own nature. Therefore, when choosing equipment, we need to pay attention to the following points:
When the submersible pump is in normal operation, it has high operating efficiency and low loss.
The service life of the over-current parts of the pump is relatively long and the production cost is saved.
The stable operation of the whole industrial and mining system will not affect the operation of the whole industrial and mining system due to the operation problems of the pumps.
The selection parameters we need to pay special attention to include outlet diameter, flow rate, dust, motor power, impeller speed, pumping rate, maximum particle, and weight.
Immersion pump scientific and reasonable selection and design has a great influence on pump service life and operation stability, so this is what we all need to pay special attention to when purchasing.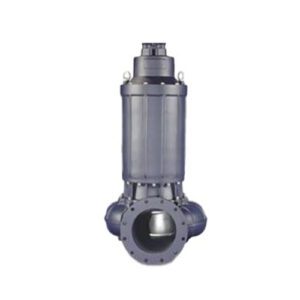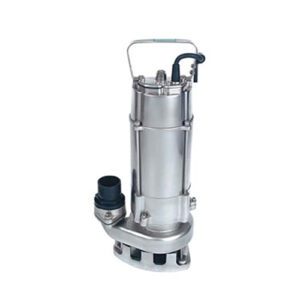 CQWF Series Marine Submersible Pump
QX Series submersible pump is mainly used for emergency rescue ships, pumping water with cabin. At the same time is applied to biogas digesters in rural areas, rural irrigation, water plant water supply and sewage device.
Model Explanation: CQXD(W)F25-8-22-1.1 
CQX: Marine submerged motor pump
25: Inlet and outlet diameter 25mm
D: Diphase, W: Pollution discharge F: Crushing model
8: Flow 8m3/h
22: Head 22m
1.1: Motor power 1.1kW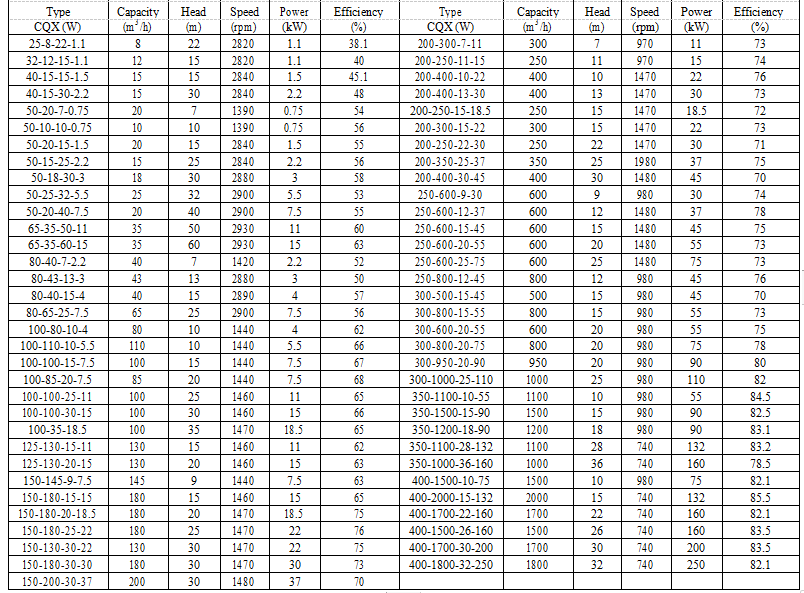 QYW25-45 Type Pneumatic Submersible Drainage
QYW25-45 type pneumatic submersible drainage pump has a semi-open impeller for use HT200 material, can be less than or equal to 14mm particles, drainage capability. The pump is of simple overall structure, convenient assembly and disassembly and maintenance in mobile, with firedamp and coal dust surface using the absolute safety is reliable, and the exhaust port is equipped with advanced new muffler, greatly reduces the noise measured ≤85dB, which can be used for coal mine in ship operations and stripping etc.
Model Explanation QYW25-45
QY: Pneumatic vane motor, W: Submersible drainage pump.
25: Flow 25m3/h, 45: Head 45m.
| | | | | | | | | |
| --- | --- | --- | --- | --- | --- | --- | --- | --- |
| | | | | | | | | Shape Dimension (L×W×H)(mm) |
| | | | | | | | | |
Application of Immersible Pump
Immersible pumps are often used to transport machine coolant, lubricating fluid, condensate transport, industrial cleaning equipment, and other fields suitable for submersible pumps. It is suitable for different temperature, flow, and pressure ranges.
Advantage of Submerged Water Pump
The submerged water pump has the advantages of lightweight, beautiful appearance, fast heat dissipation, high efficiency, and low noise.
Fully enclosed structure, using advanced domestic precision casting technology, beautiful appearance.
The double sealing structure can be installed inside, which completely solves the problem of easy leakage of the original water pump seal. In addition, it also has the advantages of being durable and the paint never comes off.
Dear friend, you can submit your pressing need online, our staff will promptly get in touch with you. If you have any questions, consult our customer service through online chat or telephone in a timely fashion. Thank you for your request online.
available from 00:00 – 23:59
Address :Room A306, Building#12, Qijiang Road, Ganjingzi