what is Marine Life Saving Appliances
The use of on-board equipment by the crew of a ship to rescue a person overboard or, in the event of a shipwreck, the abandonment of the ship in accordance with a life-saving deployment for self-rescue. Broadly speaking, it also includes rescuing other ships or accepting external assistance. The purpose is to protect the safety of life on board (SOLAS).
Ship life-saving equipment is divided into: individual life-saving appliances and collective life-saving equipment.
Dry battery stereo type raft light
Dry battery flash-type raft lights
Saltwater battery fixed type raft light
Saltwater battery flash-type raft light
Battery-free fixed-type raft light (connected to the carrier power supply)
Battery-flashing type raft lights (connected to the carrier power supply)
Lifebuoy Self-igniting Light FBQD2
SOLAS 1974, as amended: IEC60079-0, IEC60079-11
Light: LED 
Battery: LR20 Alkaline batteries×2 
Size: Φ100mm×295mm 
Weight: 700g 
Explosion-proof grade: Exia IICT4 Ga 
Temperature range: -1℃<Ta<30℃ 
Level of protection: IP68 
Certificate: MED
Life Saving Systems: Line Throwing Unit
Marine Line Throwing Unit are life-saving devices equipped for use on board marine vessels in emergency situations. Each rope thrower consists of an integral assembly of a cartridge and ejector rope. The projectile and the ejector rope in each thrower form an integral assembly, which is housed in a waterproof casing. A component that combines the rocket, igniter and rope thrower in one container, and can be used only once.
Warning: Use for distress signals only. Don't direct outlet to person. Use before the expiry date.
The windless launching distance: 230M+.
Launch elevation angle: 45 degrees.
Launch deflection: about 10 degrees.
Throwing rope-breaking tension: 2000N+
Conforms to SOLAS public, and LSA requirements.
| | |
| --- | --- |
| Throwing distance (In calm weather) | |
| | |
| | |
| Breaking Strength of Line | |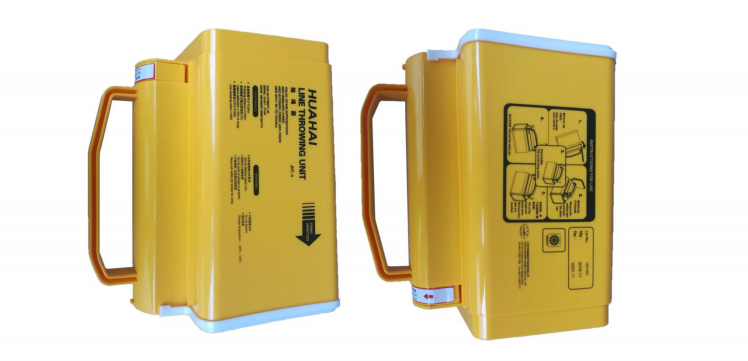 Marine Life Saving Devices: Life Smoke
Smoke Signal refers to all kinds of pyrotechnics that can emit smoke, sound and light for use as a call for help signal when the ship is in distress.
According to the signal classification, it is divided into flame type and smoke type.
Classified according to the release method:
RPF type-Rocket Parachute Flame Signal
HF type – handheld flame signal
BSS type – floating smoke signal
Rocket Parachute Flares Parameters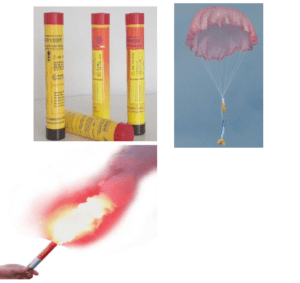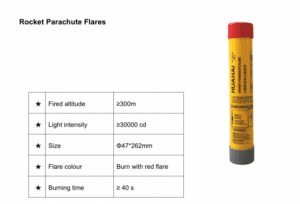 Hydrostatic Release Unit for Liferafts
what is hydrostatic release unit
Hydrostatic pressure Unit are free-floating devices (life rafts, satellite emergency radio beacons, etc.) used to attach to ships. It is a device that can be released automatically or manually when the ship sinks or otherwise needs to be released. In water depths up to 4 meters, it automatically disengages the life raft.

Hammar H20 Hydrostatic Release Unit
It is a hydrostatic release device that is safe and reliable in all the extreme conditions you and your vessel may encounter on the ocean. If the boat sinks, the Hammar H20, activated by increasing water pressure, will automatically release the liferaft.
Approval: MED, CCS, TC 

Release Depth:1.5-4m 

Weight:0.283kg 

Breaking Strength: 
          White rope sling: min imum 15KN, weak link: 2.2+/-0.4 KN, according to SOLAS regulations 
Notes: This model is designed for liferafts from 6 up to 150 persons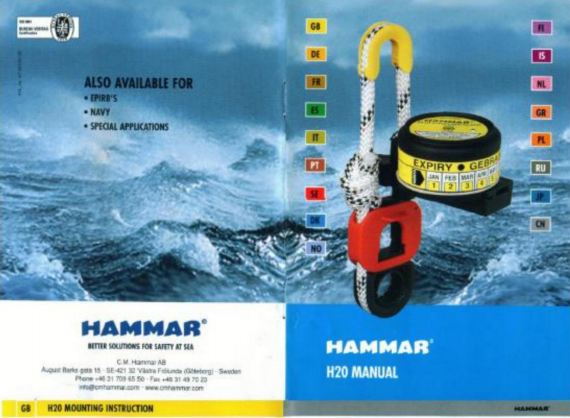 Dear friend, you can submit your pressing need online, our staff will promptly get in touch with you. If you have any questions, consult our customer service through online chat or telephone in a timely fashion. Thank you for your request online.
available from 00:00 – 23:59
Address :Room A306, Building#12, Qijiang Road, Ganjingzi