Ship Anchor chains are used to transfer and buffer external forces on a ship, connecting the anchor and the hull. In addition, some friction may be produced by it.
We offer marine anchor chains of class I, class II, class III, and class IV, as well as mooring chains of class R3, R3s, R4, R4s, and R5.
Chain manufacturing range: 22mm ~ 182mm
Anchor chainring: 6D * 3.6d (d refers to the diameter of anchor chain body)
CCS, BV, LR, ABS, NK, Kr, DNV-GL, Rina, RMRS, IRS, and other certificates can be provided.
Safely load and breaking shall refer to the gbt549-2017 national standard for electric welding anchor chains.
Types of Ship Anchor Chains
1. The various types of anchor chains are cast steel anchor chains, flash welded anchor chains, and forged anchor chains.
2. It can be divided into gear chains and non-gear chains based on the chain-link structure.
3. In terms of their purpose: marine anchor chains and marine mooring chains.
4. In terms of steel grade, marine chains are divided into AM1, AM2, and AM3, and mooring chains into R3, R3s, R4, R4s, and R5.
Production Capacity of Anchor Chains for Boats
Currently, the company has 25 large and medium-sized chain production lines which are independently designed and manufactured, and eight automatic vertical chain heat treatment lines, which can produce high-strength chains with a diameter of 12.5 ~ 240mm, with an annual production capacity of 300000 tons. As part of the flash welding system, there is an automatic monitoring and recording device; as part of the heat treatment system, there is an automated monitoring and recording device.
Furthermore, the company also has seven forging lines and nine connecting piece heat treatment furnaces that can manufacture connecting pieces with various shapes and specifications, such as chain link, Kent shackle, swivel and swivel shackle, D-shaped shackle, bow shackle, H-shaped shackle, eye plate, pontoon shackle, mooring hook, and ROV shackle. The maximum weight of a single piece can reach 8 tons, the nominal specification can reach 187mm, and the production capacity can reach 5000 tons per year.

forging process of ship anchor chains
Delivery time
Ship's anchor chains with outer diameter of 73mm, 81mm and 87mm are available in stock and can be shipped at any time.
Delivery on board
We can assist in shipping the goods to all ports and shipyards in China.
Still have questions to answer?
Contact us now.
boat anchor chain size chart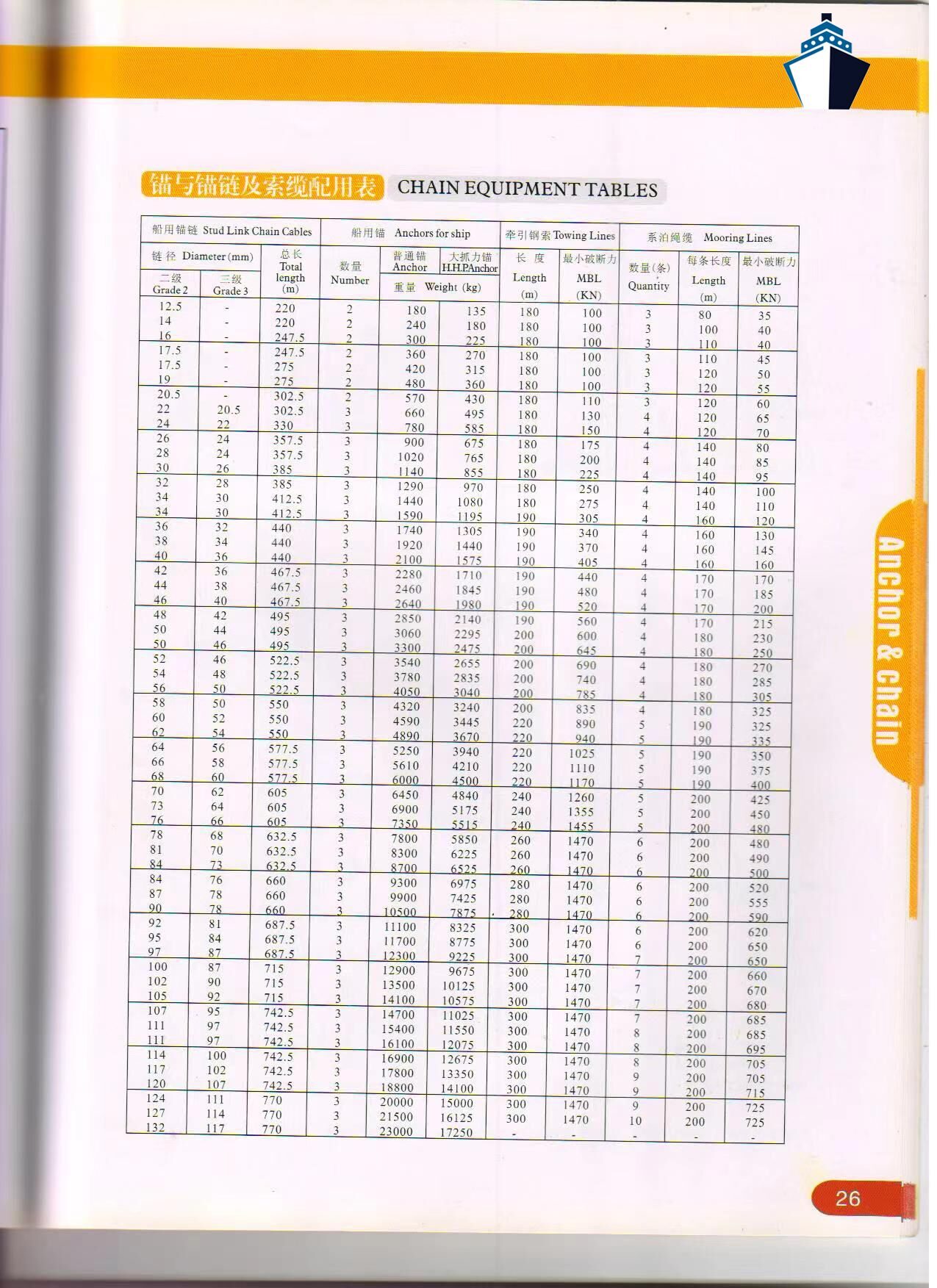 Dear friend, you can submit your pressing need online, our staff will promptly get in touch with you. If you have any questions, consult our customer service through online chat or telephone in a timely fashion. Thank you for your request online.
available from 00:00 – 23:59
Address :Room A306, Building#12, Qijiang Road, Ganjingzi